Normandy B&B - Bed and Breakfast near Alencon
La Basse Cour | B&B & Gardens near Alencon & Le Mans
Bed & Breakfast on Normandy - Pays de la Loire Border
La Basse Cour B&B is a beautiful French farmhouse providing bed and breakfast accommodation near Alençon on Normandy's border with Pays de la Loire, with the bonus of super gardens and forest views - a haven for nature lovers and garden enthusiasts.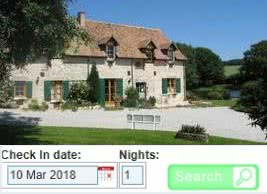 Click for Availability and Price
Since 2005 La Basse Cour has offered a characterful alternative to Alençon's hotels: this traditional stone-and-timber Normandy farmhouse dates from 1780 and has three en-suite guest rooms (chambres d'hôtes). Situated in the centre of Ancinnes on the edge of the Perseigne Forest, handily placed for the A28 between Rouen and Le Mans.
La Basse Cour B&B is ideal for couples seeking a relaxing holiday or a weekend break in the Normandy countryside, being close to forest walks, with châteaux and gardens to visit, and centrally located for day trips to famous sights like Chartres, Mont St Michel, Monet's Gardens at Giverny and the D-Day Beaches.
B&B Garden Terrace
Although we're close to the autoroute at Alençon and handy for stopovers, we also offer reduced rates if you can stay longer: so why not take a few days to unwind and explore the nearby gardens and chateaux; the lovely villages and scenic walks of the Alpes Mancelles; the rich countryside and forests of Lower Normandy; the manor houses of the Perche; medieval towns of Le Mans, Alençon, Sées and Mayenne ...
If the area is new to you, our "Gardens" page gives details of gardens in Normandy and Pays de la Loire, or for days out visit our "Sightseeing" page.
La Basse Cour B&B is just 10 minutes from the A28 motorway at Alençon between Le Mans and Rouen, so we get a lot of requests for stopovers; but stay longer and you'll better appreciate what this location offers, enjoy the garden and grounds, see something of this wonderful region of Normandy-Maine, and benefit from a lower room rate and choice of room.
La Basse Cour B&B near Alençon - a pleasant change from hotel accommodation
La Basse Cour, 72610 Ancinnes
---
How Jude & Phil came to France
"We holidayed in France for twenty years, visiting guest houses and hotels in virtually every region - eventually we decided to take the plunge and open our own bed and breakfast in Normandy, between Alençon and Le Mans, to share with guests our passion for gardens and wildlife."
House Restoration
Our Blog
Ancinnes
Green Policies
Why Book Direct