La Basse Cour: B&B near Alencon, Normandy
Normandy Activity Holidays
Fishing, Golf, Cycling, Horse Riding, Walking ....
Cycling and Walking in Normandy and Pays de Loire
Cycling and walking routes for all abilities - we have two mountain bikes, routes and maps. Click for details of Mountain Bike hire.

Baggage transfer for touring cyclists and hikers can be arranged - ask for prices.

The Perseigne forest straddles Normandy and Pays de la Loire and is a magnet to walkers, riders and mountain bikers, yet due to its immense area you can go for miles and not meet another soul.

The forest of Perseigne has some of the best walking/hiking and mountain bike trails in France with many clearly marked routes, or if you prefer road cycling there are miles of quiet country lanes to explore in every direction.


Le Mans Race Events
For Le Mans Classic, 24 Hours, MotoGP dates click here


Fishing in Normandy and Pays de Loire
There is a popular fishing lake (carp, tench, trout) within walking distance (1000m), surrounded by trees and with a picnic area, tables and benches.
No need to arrange for a fishing licence in advance - you can just turn up with your fishing rod, fees are collected on site (a couple of euros).


Golf courses in Normandy / Golf courses in Pays de Loire
Golf Arçonnay, Alençon, 10km.

South of Alençon, the golf club at Le Petit Maleffre, Rue des Fonderies, Arçonnay is 9 holes along the banks of the river. The wooded surroundings, water obstacles and doglegs make for an attractive golf course near Alençon.
18 holes weekdays 25 €; 18 holes weekends and public holidays 30 €.

Other Golf Courses

Golf de Bellême, 30km. Les Sablons, 61130 Saint-Martin-du Vieux-Bellême.

Le Mans Golfier, 45km. Rue du Golf, 72190 Sargé-les-le-Mans.

Golf de Bagnoles de l'Orne, 55km. 61140 Bagnoles-de-l'Orne

Golf des 24 Heures, 60km. Route de Tours, 72230 Mulsanne, Le Mans.

Golf du Perche, 65km. La Vallée des Aulnes, 28400 Souancé-au-Perche.


View
Golf courses near Alençon, France
in a larger map
Horse riding in Normandy and Pays de Loire
Beginners and experienced riders alike can hire horses for an accompanied ride in the forest of Perseigne or a carriage ride from the stables on the other side of Neufchatel-en-Saosnois, just 15 minutes from Ancinnes.

Please book directly at least a day in advance with M. and Mme. Zalkind, L'Apothicairie, tel. 02 43 34 31 79.

Due to previous experience where people have cancelled activities we have booked for them, we can't book on your behalf - sorry.


Canoe and Kayaking on the Sarthe
CanoeLocations - Alpes Mancelles Canoe Hire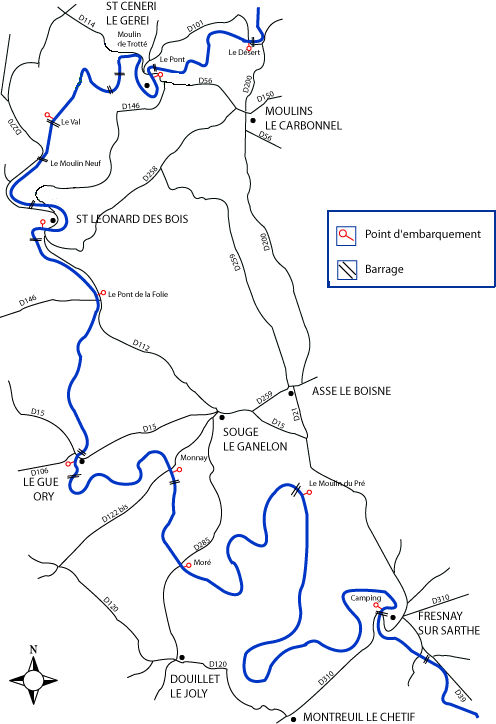 Why not try canoeing on the Sarthe, for a half or full day, paddling and drifting down a lovely river that flows through spectacularly beautiful countryside. "Alpes Mancelles Canoeing" at www.canoelocation.com provide canoes from a variety of start and finish points. Their canoe-kayak stations at Moulins-le-Carbonnel and Fresnay-sur-Sarthe are both only 10 miles away (20 minutes). All safety equipment and a waterproof storage box for valuables, food and drink are supplied.

Book in advance by phone or email or in person at:
The Mairie, 72130 MOULINS-LE-CARBONNEL
Tel : 02-33-32-95-53
Port. : 06-08-43-37-60
Email : reservations@canoelocation.com

Base Municipale Canoe - Kayak
Alençon town Canoe Base offers a second option for canoeing:
Tel. +33 (0) 233 320 306
Bird Watching in Normandy and Pays de Loire
Without even moving from the breakfast table you can spot a surprising number of birds - we have seen nearly 50 species in our garden so far:
Birds spotted at La Basse Cour


Days Out and Sightseeing in Normandy and Pays de Loire
We can suggest loads of places to go and visit for days out and there are dozens of local sites of interest - find out What to See here.


Hunting Mushrooms
Mushrooming is very popular from late summer to mid-winter, with people coming from far afield to gather mushrooms from the forest of Perseigne - ceps, chanterelles, parasols and ink caps are common (and tasty!).


Tree Top Walks and Zip Lines at Parc Aventures du Gasseau
St Léonard des Bois, 30 minutes from Ancinnes.
A great day out with the children, these tree-top walks, zip-line descents and climbs are graded to be suitable for all abilities age 5 upwards.
Tel. +33 6 08 43 37 60, St Léonard des Bois.
www.parc-aventures-du-gasseau.com


Tennis, Table tennis
At the village sports ground.


10-pin Bowling
Arçonnay, 10 minutes from Ancinnes.


Alencéa Swimming and Aquatic Leisure Centre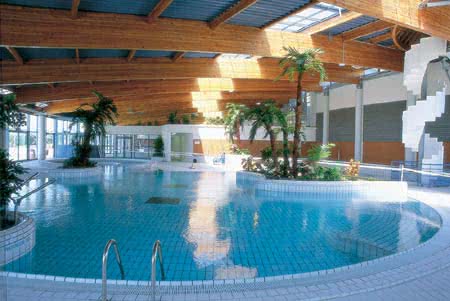 Open 7 days a week the Alencéa water centre at Alençon covers 2500m2 and has a 25m sports pool for serious swimmers, plus a large leisure pool with water chutes, geysers, river currents and wave machines. Times and tariffs.