2021 Le Mans Dates and B&B Accommodation
2021 Le Mans Moto GP, 2021 Le Mans 24 Hours, 2021 Le Mans Classic
Le Mans 2021 Dates and Accommodation
Directions to Le Mans Race Circuit
GPS SatNav coordinates for Le Mans circuit entrance/Museum of the Le Mans 24 Hours: 47.956, 0.208
We are 30 minutes from Le Mans town and 45 minutes from the Le Mans Race Circuit. NB Queues for parking at the circuit may delay your entry - allow plenty of time!
All Le Mans race events take place at the Le Mans 24 Hours Circuit (aka Circuit Bugatti du Mans). For a great scenic drive cut across country from our B&B via Ballon, or join the D338 at Fyé and follow that road to the circuit. The D338 is the main road between Le Mans and Alençon. Alternatively take the autoroute A28 (tolls apply) and follow the signs for the "Circuit 24 Heures", "Aeroport" or the "MMArena" football ground, both of which are next to the track.




Le Mans Circuit Access Plan
GPS SatNav coordinates for Le Mans circuit entrance/Museum of the Le Mans 24 Hours: 47.956, 0.208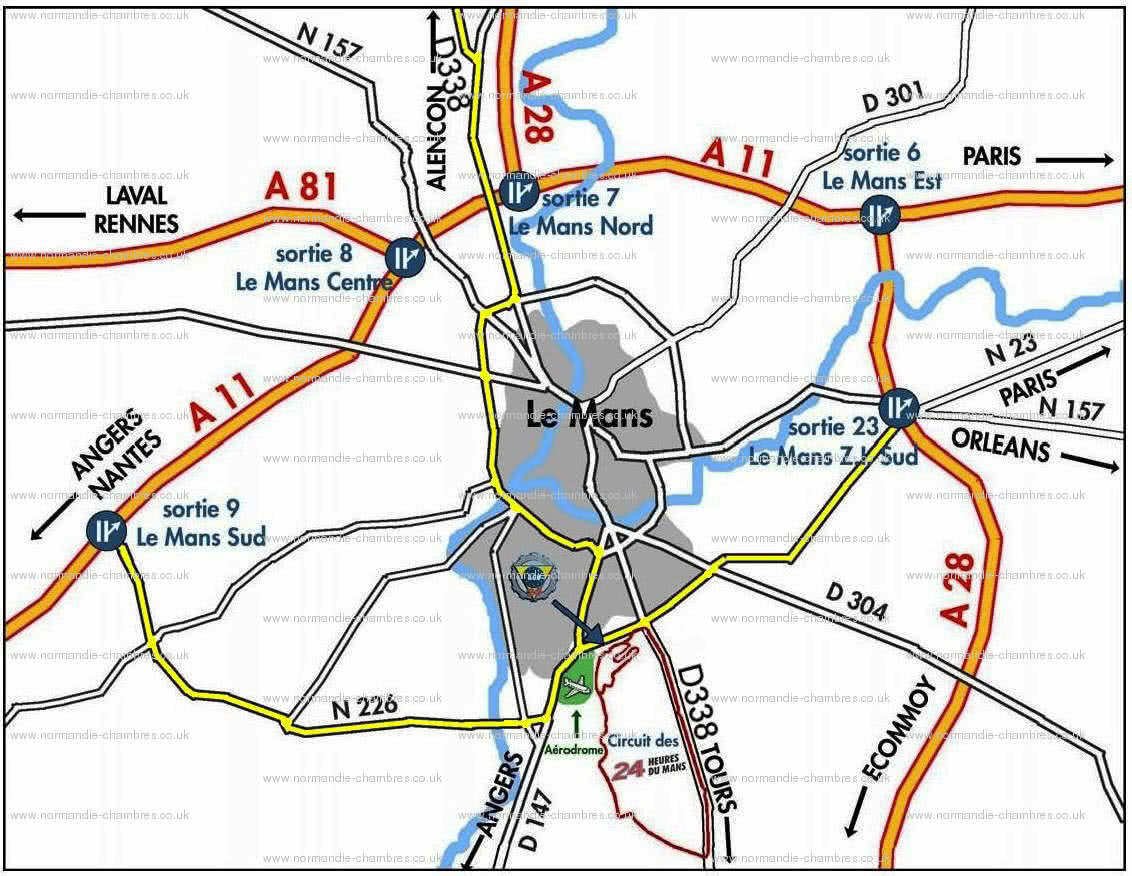 TICKETS FOR LE MANS
Buy Le Mans race tickets directly from the ACO organisers and book your accommodation directly with us to get the best deal.
Joining the ACO (Automobile Club de l'Ouest) gives many privileges, including discount rates on tickets, priority booking, etc.
Special rates on tickets for all car, bike and truck races
Priority booking of Le Mans 24 Hours tickets
Reserved access to the ACO Club Enclosure
Free kart session during the Le Mans 24 Hours race
24 Hours Official Souvenir pack after the 24 Hours race
Discounts on Le Mans circuit shop merchandise
Click image for ticket details and ACO membership
GRANDSTAND (TRIBUNE) SEATS AT LE MANS
Grandstand seats are NOT included in the general entry price and vice versa. If you are spending a long time at the track YOU SHOULD AT LEAST CONSIDER a grandstand ticket, particularly for the Le Mans 24 Hours. If in a group you could share a smaller number of grandstand seats.
All grandstands are covered except Wollek - see the plan below. Grandstands 17 and 18 are reserved for ACO Members. Prices are from 55€ to 100€ (2016).
TRIBUNE 22 WOLLEK 55€
TRIBUNE 11 WIMILLE 75€
TRIBUNE 12 BENOIST 75€
TRIBUNE 03 CHAPELLE 90€
TRIBUNE 23 RACCORDEMENT 1-3 90€
TRIBUNE 16 SOMMER 100€
TRIBUNE 05 DUNLOP 100€
Click image for Le Mans Grandstand ticket details
CAR PARKING AT LE MANS
When you buy your entry ticket, also book your parking space. Parking at the Le Mans circuit costs between 15 and 30 euro for the duration of the race. The zones around the course are colour coded Red, Green, Blue and Yellow.
Be prepared for queues at the beginning and end of each day. For more information on specific access conditions, please refer to the description of each area.
Click image for Le Mans Parking details
Le Mans Races 2021
| | |
| --- | --- |
| France Superbikes | March 2021 |
| 24 Heures Moto | April 2021 |
| Series V de V FFSA Classic Endurance | April 2021 |
| Le Mans Moto GP (Grand Prix de France Moto) | May 2021 |
| Le Mans 24 Hours | June 2021 |
| Le Mans Classic | July 2021 |
| Fete De L'ACO | July 2021 |
| 24 Heures Karting | July 2021 |
| Championnat du Monde Karting KZ | September 2021 |
| 24 Hours Camions (Lorries) | September 2021 |
Individual Race Details
French MotoGP (Le Mans MotoGP)
The French MotoGP is run on Le Mans Circuit Bugatti: part of the MotoGP World Championship.
Test Day Le Mans 24 Hours
24 Hours Test Weekend - the test weekend is every bit as exciting as the race weekend and you get a better view without paying a fortune for a grandstand seat!
24 Hours Le Mans
THE motorsport event of the year, renowned the world over and the biggest event of the World Le Mans Series. 24 hours of non-stop action attended by massive, enthusiastic crowds - the biggest motorsports party in the world.
The Le Mans 24 Hours is usually the second weekend in June but it can vary by a week or so either way. The cheapest way to book tickets is directly with the ACO
www.24h-lemans.com
and book your accommodation separately (e.g. our B& B!).
Le Mans Classic
Le Mans Classic takes place in even numbered years, alternating with Le Mans Story.
The Le Mans Classic is a fantastic chance to see legendary cars of years past in racing action. For three days, stunning cars of Le Mans past relive the glory days of the 24 Hours Le Mans with non-stop racing by day and night. A very different atmosphere to the 24 Hours, bringing together drivers, enthusiasts, clubs and exhibitors in a more genteel atmosphere than the regular 24 Hours.
In odd numbered years it is the turn of Le Mans Story, which normally takes place over the first weekend of July. Le Mans Story is run over the Bugatti Circuit and 2015 was the 6th running of the event. Some 300 historic race cars take part in different race classes, from 50's micro racers to saloon cars that ran the Mille Miglia to single seaters from F1, F2 etc.
Promosport
Promosport Motorbike racing is close and competitive, a showcase for the biking superstars of the future.
24 Hours Karting
24 Hours Karting - organised by A.S.K.-A.C.O. on the Circuit Alain Prost.
Le Mans 24 Hours Moto (Bikes)
The Le Mans 24 Hours Moto (Bikes) is a day-night-day endurance race, not to be confused with the Moto GP series.
With over 800 laps of the circuit to be completed, the 24 Heures Moto is an immensely tough challenge for the machines, riders and support teams.
From 2015 the race reverted to April, following a number of years when it was held in September.
24 Hours Truck Race
24 Hours of HGV endurance racing. A hugely popular event with more than 45,000 spectators attending.
Accommodation Available Near Le Mans 24 Hours Circuit
Please wait until map has fully loaded then put in your race dates
Bed & Breakfast Le Mans