Bed and Breakfast Alencon, Normandy
Bed & Breakfast near Alençon, Normandy-Loire
La Basse Cour B&B, Ancinnes, Pays de la Loire
Bed & Breakfast on Normandy - Pays de la Loire Border
La Basse Cour B&B, Ancinnes, Pays de la Loire
La Basse Cour B&B is a picture-perfect Bed & Breakfast near Alençon on Normandy's southern border with Pays de la Loire, with the bonus of a beautiful garden to enjoy.
A stone-and-timber Normandy farmhouse dating from 1780, our bed and breakfast offers you a characterful alternative to Alençon's hotels, with three fresh and airy en-suite guest rooms (chambres d'hôtes) and beautiful gardens. La Basse Cour B&B is in the village of Ancinnes on the edge of the Perseigne Forest, handily placed for the A28 to Rouen (Normandy) and Le Mans (Pays de la Loire).
Bordering Lower Normandy and the Sarthe, La Basse Cour B&B is an ideal base for a relaxing cross-channel holiday or long weekend break in France, while excellent road links means day trips to the famous Chartres Cathedral, Mont St Michel and the Normandy Beaches are all possible from one central location.
Nearer to home you can explore the lovely villages and valleys of the Alpes Mancelles; the rich green pastures and orchards of Lower Normandy; the gentle hills and woodlands of the Perche countryside; the medieval towns of Le Mans, Alençon, Sées and Mayenne; the gardens and châteaux of Normandy and Pays de la Loire ... and so much more besides.
Our "Normandy-Loire Gardens" page gives details of gardens to visit in Normandy and Pays de la Loire, or for a taste of other sights see "Sightseeing in Normandy and Pays de la Loire".
La Basse Cour B&B is minutes from the A28 motorway at Alençon, between Le Mans and Rouen.
We have plenty of off road parking for cars and motorbikes - La Basse Cour is a biker-friendly B&B.



La Basse Cour B&B, near Alençon in Normandy - a pleasant change from hotel accommodation
---
Download "La Basse Cour" B&B details
A Brief Guide to Lower Normandy and Pays de Loire
Bookmark La Basse Cour B&B

La Basse Cour B&B, Normandy - Loire
reviews of hotels in alencon, B&Bs in normandy, bed and breakfast near Le Mans, bed and breakfast in normandy, hotels near alencon, Lower Normandy B&Bs, guest house near alencon, France, hotel near A28, biker friendly b&Bs
Jude & Phil : How we came to France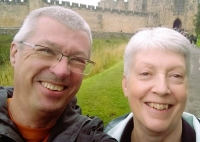 "We holidayed in France for twenty years, visiting B&Bs and hotels in virtually every region - eventually we decided to take the plunge and open our own guest house in Normandy where we can share with guests our passion for gardens, wildlife and the countryside."