La Basse Cour: B&B near Alencon, Normandy
Sightseeing: Some Ideas for Days Out
A Few Ideas for Days Out
Not sure what to do, where to go, what to see? Here is a handful of ideas to get you started. But this is only a start - click on "What to See" for many, many more ideas and "Gardens in Normandy and Pays de la Loire" for dozens of great gardens to visit.
1. Château de Carrouges then on to Sées & Radon | or Chateau de Sassy | or Bagnoles de l'Orne
Morning
Visit Château de Carrouges 20 miles north west of Alençon, driving there through the Forest of Ecouves on the D2 rather than the busy N12. Open every day all year round. Closes for lunch 12.00 to 2.30pm. The last morning tour starts at 11.15am - don't miss it!
Carrouges has some nice restaurants and crêperies for lunch or, depending on your plans, drive on to Sées or Bagnoles-de-l'Orne or buy provisions for picnic.
Afternoon
Visit Sées Cathedral then go to "Esprit Antiques" near Radon, access off the main road from Sées to Alençon (D438). 10000m2 of architectural salvage, antique and reproduction furniture, gazebos, fountains, urns, wrought iron fencing and gates, statuary. Open 7/7, closed for lunch 12pm-2pm, Sundays open afternoon only.
OR
Visit Chateau de Sassy at St Christophe-le-Jajolet, 12 miles north-east from Carrouges. Visit the château and its impressive formal gardens and terraces. Open 15 June to 15 September 10.30 to 12.30 and 2pm to 6pm. Easter Saturday to 14 June and 16-30 September open weekends only, 3pm to 6pm. No restaurant at Sassy but you can picnic there.
OR
Visit Bagnoles-de-l'Orne, a spa town with lots of shops and restaurants/bars, an arboretum and park on the mount next to the chateau (interior not open to public) and pleasant lakeside park. Just up the road from the Casino is a little garden to visit called "le Jardin Retiré". Open April to September Fri-Sun 10am - 6pm or by appointment other times of year.
Near Bagnoles at La Pesnière, 61700 Champsecret, "Le Jardin Boutique" sells all sorts of garden ornaments, statues, metalwork, furniture, and house décor such as candelabras, lanterns, statues, table decorations, etc. We have bought garden furniture and ornaments here. Open Friday to Tuesday 10 to 12.30 and 2pm to 6pm.
2. Alpes Mancelles and Bourg-le-Roi
Morning
Visit Fresnay-sur-Sarthe (market day is Saturday) - pretty town, views of the Sarthe from the castle ruins in the town centre. Then head for St Léonard des Bois. From the church square by the Hotel Bon Laboureur there is a 5km walk up the Vallée de Misère signposted in green. Lunch at St Léonard or St Ceneri (below).
Afternoon
St Ceneri-le-Geréi, classed as one of the prettiest villages in France. Walk by the river, great views from behind the church. 500m uphill to the north of the village don't miss the Gardens of the Mansonière; open from June to mid September daily afternoons 14h30 to 18h30 except Tuesday; mid-April to end of May Friday, Saturday and Sunday afternoons only.
On the way back and just 5 minutes before Ancinnes take a walk around the fortified, ramparted village of Bourg-le-Roi. The "Musée de la Broderie" gives "Point de Beauvais" demonstrations weekend and some weekday afternoons April to September.
Nearby at Cherisay at Le Rabours "Au Jardin d'Hôte" is a garden aquatic centre that also sells a wide range of bird sculptures in metal, like the ones in our own gardens. Open Tues - Fri 2pm to 7pm.
3. Le Mans and nearby Gardens
Morning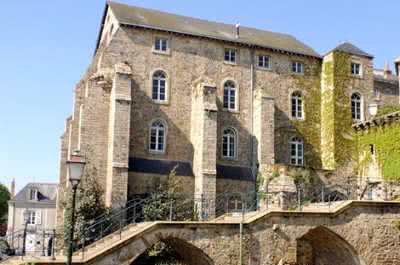 Visit old town of Le Mans, the "Plantagenet City" - medieval town, its 1700 year-old Roman ramparts overlooking the river Sarthe, and the exceptional Cathedral of St Julien. Good choice of cafés, restaurants, many at the west end of the old town.
If you like motor racing then the Le Mans 24 Hours museum at the entrance to the race circuit is worth a visit and has a café. Open January : Fri-Sun 11h to 17h. February, March : every day except Tuesday 11h to 17h. April to September : every day 10h to 18h. October to December : every day except Tuesday 11h to 17h.
Afternoon
The Garden of Petit Bordeaux at St Biez-en-Bélin is just south of Le Mans near Ecommoy. Excellent garden, much worth a visit. Open 10am to 12.30pm and 2pm to 7pm, April to end October every day except Tuesdays.
In the same area are the unusual vegetable gardens of the Château de Villaines between Louplande and Chemiré-le-Gaudin (open June, July and September every day from 10h to 12h and 14h to 18h).
4. Alençon and Sées & Radon | or Essay/Perseigne Forest
Morning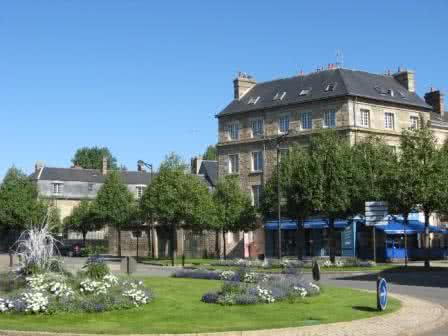 Visit the old town of Alençon - the town centre around the Basilica of Notre Dame retains many medieval buildings. There is an audioguide available from the Tourist office in the Maison d'Ozé near the Basilica Notre Dame, and a tourist train in summer months (July to mid-September) that you can hop on and off (tickets from tourist office or on the train). Market days are Thursday and Saturday morning. NB most shops are closed on Sunday and Monday. Lunch in Alençon - sandwich bars, restaurants, cafés in Grande Rue and around the Halle au Blé.
Afternoon
Visit Sées Cathedral and "Esprit Antiques" as above.
OR
Visit the Garden of Manoir la Bonnerie at Essay 10 miles north-east of Alençon. The garden and manor house are on a hillside looking over the town. Open first weekend of May to mid-September, Saturday to Monday each afternoon from 14h30 to 18h30.
OR
If you've ever watched the Tour de France and been even vaguely interested you will like the unusual and surprising Musée du Vélo at Fresnay-sur-Chedouet; interactive videos, rare newsreel, historic race bikes, famous riders' memorabilia, etc. Open April to September, Wednesday to Sunday from 10h to 13h and 14h to 18h.
Coming back from either of these through the forest of Perseigne the belvedere is signposted - this is the highest point in the Sarthe and on clear days offers views as far as Le Mans and the Alpes Mancelles. Open 1pm to 6pm weekends only in April, May, June and September, 11am to 7pm Wed-Sun in July and August.
If you drive back via the Vallée d'Enfer then at Neufchatel-en-Saosnois where there is a curious little woodcraft museum - get a key from any of the shops or the bar opposite.
5. ... and many more sights to see
This is only a start - click on "What to See" for many, many more ideas and "Gardens in Normandy and Pays de la Loire" for dozens of great gardens to visit. For activities and things to do see ""What to Do".